A 21-year-old man was killed in France after high winds caused a tree to fall on him while he was skiing Wednesday in the Morillon area in the southeast of the country, Savoie police told CNN.In Spain's Basque Country, two people died Wednesday night in the coastal town of Mutriku after they were swept out to sea by a large wave, police said.A third person attempted to rescue the 74-year-old man and 76-year-old woman but could do nothing to help them, police officer Josu Elesgarai told CNN.At least 29,000 homes were without electricity in France Thursday as a result of the bad weather, according to energy company EDF.The French Interior Ministry warned late Wednesday that gusts could reach 180 kilometers per hour (112 mph) in the French Alps and 200 kph (124 mph) on the Cap Corse, a peninsula at the northern tip of the French island of Corsica, in the next 24 hours.Heavy snowfall is forecast in the Alps, increasing the risk of avalanches, the ministry warned. There is also a risk of flooding in many coastal areas of France.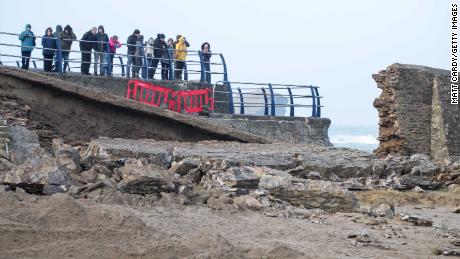 Rain and high winds brought by Eleanor lashed parts of Ireland and the United Kingdom on Tuesday and Wednesday, causing flooding in some areas, downing trees and temporarily cutting power to tens of thousands of homes.Gusts of 100 mph were recorded in the Pennines, a range of mountains and hills in northern England, the UK Met Office said Wednesday.The stormy weather in Europe comes as icy blizzards pummel the northeastern United States and eastern Canada. More than 2,700 US flights have been canceled Thursday, according to Flightaware.com.Forecasters are predicting heavy snow in New York City and Boston, among other places.Before the storm pushed north, southeastern US cities that rarely see snow turned into winter wonderlands, with snow weighing down palm fronds and freezing water in fountains.More than a dozen people in the United States have died this week owing to factors related to the cold, officials said.
CNN's Saskya Vandoorne reported from Paris, while Lorenzo D'Agostino and Laura Smith-Spark reported from London. CNN's Kristina Sgueglia and journalist Peter Taggart contributed to this report.
Original Article
[contf] [contfnew]
[contfnewc] [contfnewc]