Speaking ahead of Thursday's talks with British Prime Minister Theresa May, Macron insisted that France was doing all it could to prevent illegal crossings into the UK.Macron wants the UK to increase its spending to help ease the pressure on Calais, which was home to the former encampment known as the Jungle where thousands of migrants lived before it was destroyed by French authorities in October 2016."Calais has become an impasse," Macron said in a speech in the city on Tuesday."In no way will we let illegal routes to be developed here. In no way will we let a 'Jungle' spring up, or an illegal occupation of the territory."Macron and May are set to discuss the 2003 Le Touquet agreement, a deal that allows the UK to effectively have a border on French land and vice-versa. The agreement is unpopular in France. The move is in line with Macron's pre-election pledge to renegotiate the treaty. If the deal is scrapped, Britain's immigration services would have to deal with migrants when they arrive in the UK rather than before they leave France.According to the Elysee Palace, there are currently about 300 to 500 migrants living in Calais a — down from 2,000 14 months ago.Many are living in makeshift camps and attempting to find their way across the English Channel.The French government recorded 115,000 attempts to enter the UK from Calais in 2017 compared to 165,000 in the previous year.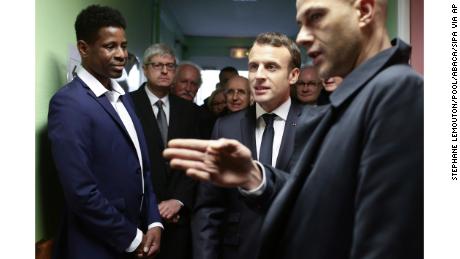 Macron met with a number of migrants at a center in Croisilles about 130 kilometers (80 miles) from Calais, before addressing security staff later in the afternoon.Macron wants to reduce the time it takes to process asylum claims from 18 months to six while offering protection to the most vulnerable, including women.He also pledged to challenge Britain on accepting unaccompanied minors, adding he would be seeking some "specific responses" from London on the matter.
Saskya Vandoorne in Paris contributed to this report.
Original Article
[contf] [contfnew]
[contfnewc] [contfnewc]