Mnangagwa had promised a fresh vote soon after the ruling ZANU-PF party anointed him interim President in November, acknowledging that the people of Zimbabwe should directly elect their country's leader, Parliament and local government. "Zimbabwe is going for elections in four to five months' time and we have to preach peace, peace and peace, because we know it is good for us and we have no doubt that we will have peaceful elections," said Mnangagwa at an official dinner in Mozambique on Wednesday night, a state media video of the leader shows. "We will ensure that Zimbabwe delivers free, credible, fair and indisputable elections to ensure Zimbabwe engages the world as a qualified democratic state."Mnangagwa and the main opposition leader, Morgan Tsvangirai, are likely to contest the election. Tsvangirai, however, has been receiving cancer treatment for almost two years now and has recently appeared in public looking frail.The election will be the first time since Zimbabwe's independence in 1980 that Mugabe's name will not appear on the ballot.Mugabe was forced to resign in November after 37 years of autocratic rule, in a dramatic standoff with the military, which placed the veteran leader under house arrest while supporting Mnangagwa's rise.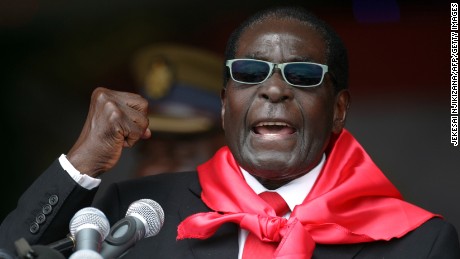 There had been concerns that Mnangagwa — a septuagenarian known as the "Crocodile" for his political survival skills — could delay the vote to extend his stay in power.The political tumult that led to Mugabe's downfall began when he fired Mnangagwa, who served as vice president at the time and had been a close ally of Mugabe for decades. Zimbabwe Electoral Commission acting chairperson Emmanuel Magade told CNN that Mnangagwa had the authority to set the election date and that he would wait for the leader's orders to begin organizing the vote. Zimbabwean officials had earlier suggested elections might take place in July or August.
CNN's Marilia Brocchetto contributed to this report.
Original Article
[contf] [contfnew]
[contfnewc] [contfnewc]