'Karimi, what's happening?' I demanded of an engineer nearby. He shook his head in utter bewilderment and ran out to check. The previous Friday, President Uhuru Kenyatta had reportedly asked TV stations not to televise live the symbolic inauguration by the National Super Alliance, (NASA) or they risked getting shut and he had just made good on that threat.Besides NTV, transmitters for the privately owned Citizen TV, Inooro TV and KTN News had also been switched off in the most aggressive anti-media move by a Kenyan government in more than two decades. Although Citizen TV and Inooro were switched back on Thursday afternoon. The Interior cabinet secretary Fred Matiang'i spun it as a pre-emptive measure after "credible and incontrovertible intelligence" that the opposition had planned "a massacre of catastrophic proportions" that it intended to blame on law enforcement. "As a result and because of some of the possible incitement that would be aided by media activities, we took the decision to switch off three media stations," he claimed a day after the shutdown. He made no mention of the hastily convened meeting at State House where senior editors are said to have been dressed down about irresponsible coverage of the opposition or the fact that no official readout had been released.The Kenya Editors Guild called it "the most egregious assault on media freedom in Kenya since the end of one-party dictatorship"and accused owners of the media outlets of cozying up to the state.The worst of the intimidation and harassment they feared was yet to come.
Harrowing nights
In the hours after the shutdown, top executives held off going to contest the illegal move in court, preferring instead to "negotiate" with senior government officials about returning on air.All they received was radio silence before the Interior cabinet secretary's tough stance the next day, widely seen as a middle finger to the broadcasters. "We have commenced a wide scale investigation targeting individuals and organizations, who include but may not be limited to certain media houses," he announced.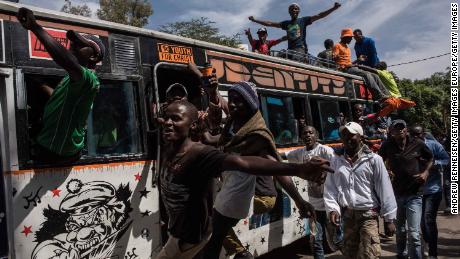 On the same evening of Wednesday, January 31, I was forced to spend the night in the NTV newsroom after plainclothes officers from a crack police unit blocked exits of the iconic Nation Centre building in Nairobi where we are based.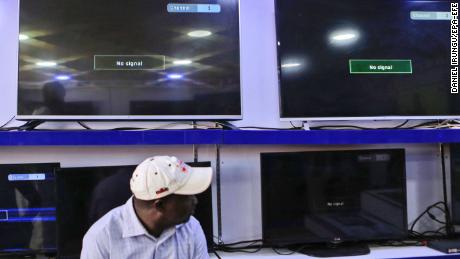 They had orders to arrest my colleagues Linus Kaikai who also chairs the Editors Guild, reporter Ken Mijungu and myself without a warrant which would have set a dangerous precedent.The next day, we had to sneak out into a safe house as our lawyers battled to keep us from getting detained. Night arrests in Kenya are particularly harrowing as they can lead to being held incommunicado for days on end without access to family or legal representation. It wasn't until a judge granted us anticipatory bail on Friday barring the police from arresting us that we could get out of hiding.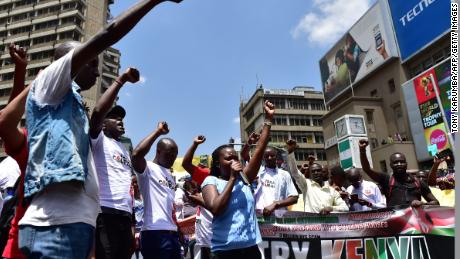 In the meantime, the Jubilee administration that proclaims itself as a "rule of law government" refused to reopen the country's three biggest independent news channels despite a court order suspending the switch-off.The private broadcasters that control about 70 percent of the total viewership in Kenya were closed for six days, denying a majority of citizens access to credible news and costing them millions of dollars in losses.NTV and KTN News resumed broadcasting on pay TV carriers the following Monday but Citizen TV remains off-air without explanation from the government.
A week of darkness
When another court ordered the Kenyan government to release the prominent NASA politician Miguna Miguna, it ignored that order as well and even refused to produce him in court.Another opposition politician TJ Kajwang who stood next to Odinga while he took the oath was dramatically arrested and kept at an undisclosed location for several days while his colleagues scrambled to find him, before he was being released on bail.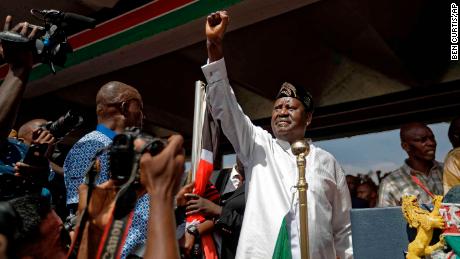 A group of activists who protested against the government's abuse of the rule of law under the banner "Not In My Country"were violently dispersed using teargas, ironically just moments after they told reporters the country was turning into a police state.Not only has President Kenyatta's administration systematically cracked down on dissent, it is increasingly breaking the same laws he swore to protect.Kenya's constitution specifically guarantees freedom and independence of the media and warns that the state shall not "exercise control over or interfere with any person engaged in broadcasting" yet these past few years have been anything but.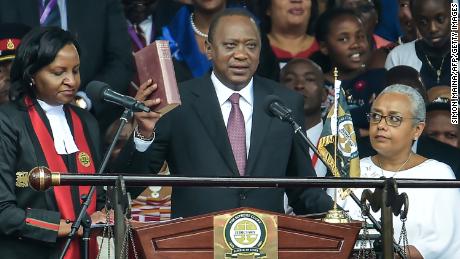 President Kenyatta and his aides have exhibited a startling intolerance for criticism to the point of threatening some journalists for negative stories.Only the state broadcaster KBC and what is essentially the alternate state broadcaster, the Kenyatta family owned K24, were left on air during the week of darkness effectively amounting to economic sabotage.
'Threats to press freedom'
Shutting down networks that have such a massive following, public trust and who collectively employ thousands is a deliberate move to limit free flow of information by a rogue government. As a practicing Kenyan journalist, I'm deeply concerned about the threats to press freedom at this defining moment in the country's democracy.Our job as reporters is to record history, whether the government of the day approves of it or not.One of Africa's beacons for vibrant media can and should not be dimmed out by an administration intent on censorship of independent voices, reducing the country to just another African dictatorship where critical journalism is outlawed and reporters constantly fear for their lives.This is an unacceptable reversal of the democratic gains Kenya has made and no one government or president should be allowed to drag us back two and a half decades to a dark age of torture chambers, exile and forced disappearances.Far too many people have sacrificed far too much for far too long to get us here. Journalism is not a crime.
Original Article
[contf] [contfnew]
[contfnewc] [contfnewc]