Chinese state-controlled media confirmed a blaze broke out Saturday at the Jokhang Temple in the Tibetan capital Lhasa, and reported that it was quickly brought under control. No injuries were reported.Authorities appear to be censoring mentions of the fire online and suppressing any details of the cause or aftermath.Some social media posts on Weibo, a Chinese social media platform like Twitter, appear to have been erased by government censors. The ability to re-post and comment on other posts was disabled by Monday afternoon after working earlier in the day. The status of Tibet is one of China's most sensitive politics topics. Travel to the region is heavily restricted and news about the region is often censored. Jokhang Temple is widely considered to be one of the most sacred and important sites in Tibet. Buddhist pilgrims prostrate themselves in front of the temple every day, as they have since it was first built in the 7th century.CNN could not independently confirm the authenticity of videos being shared online showing the fire, and could not reach authorities for comment due to the Lunar New Year holiday.Chinese state media Xinhua said the bustling Barkhor market which surrounds the temple was reopened Sunday. The temple was also open Sunday but will be closed for the next few days as monks celebrate the New Year holiday, Xinhua reported.China's state-controlled Tibet Daily News confirmed there had been a fire but it has since been put out. No one was hurt and the surrounding area is now "back to normal," according to the paper.
A hallowed site under a watchful eye
Jokhang is one of China's most heavily-secured sites. The square outside the temple has seen a number of anti-China demonstrations by Buddhist monks over the years, protesting what they say are consistent attempts by the Chinese government to suppress Tibetan culture and religious freedom.The temple itself is constructed mainly of wood. It's age, primary building materials, constant burning of incense inside and the fact that the interiors are small and cramped, would make firefighting difficult. A CNN team that visited the temple in 2016 saw little firefighting equipment.
Simmering tension
Tibet was de facto independent following the collapse of the Qing dynasty, but was incorporated into the People's Republic of China in 1951, after the communist party won the country's civil war, to the chagrin of many in the Tibetan Buddhist community. After a failed revolt against Chinese rule in 1959, the 14th Dalai Lama — Tibet's spiritual leader — fled to India. The Dalai Lama's former home, the Potala Palace, is located just a few kilometers away from Jokhang Temple.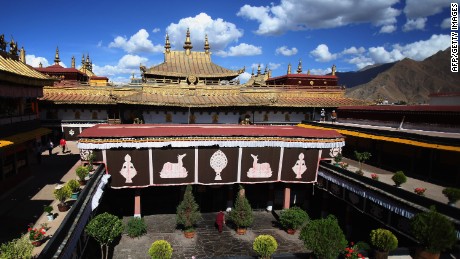 Simmering defiance from Tibetans sometimes boils over into large-scale riots. Activists say more than 140 people have lit themselves on fire in protest of Beijing's rule since 2009.China requires all foreign tourists to have permits and sometimes shuts down access for weeks at a time. It only rarely allows reporters to visit the region. CNN has been permitted to visit twice since 2006.However, China has been grooming the region for a boom in tourism. New villages have been built and a second rail line, connecting Chengdu, the capital of Sichuan Province, to Lhasa has been. China already has a 1,956 kilometer railway line between Qinghai and Tibet.Many Tibetans feel that the increase in visitors and the influx of Han Chinese, China's dominant ethnic group, has put their native culture and religion under siege from a government that sees religion as an existential threat to their leadership.
CNN's Qiaoqiao Yu contributed to this report