"The children of Ghouta die every day by the bombing of the Assad regime and Russia," Najem says in one of the dozens of videos he has posted on Twitter and YouTube. Najem lives in Eastern Ghouta, a besieged suburb of Damascus, which is suffering one of the bloodiest bombing campaigns in the seven-year Syrian conflict. In two days this week, intense airstrikes and shelling by Russian-backed Syrian government forces killed more than 250 people in Eastern Ghouta, including 58 children, according to the UK-based Syrian Observatory for Human Rights. The United Nations says nearly 400,000 people are trapped in the rebel-held area. Najem's videos have a common theme: an appeal to the world to bear witness to what is happening in Syria."People should know about everything happening in Syria," he told CNN. "I want to follow my studies. I want to become a reporter when I grow up."Our blood begs every day. You watch it daily without any reaction from you," Najem says in one video, wearing a Syrian flag draped around his neck like a scarf. "Our hunger, cold, and displacement have become a common sight. Save our people in Ghouta."In one of his most powerful videos, Najem stands on a rooftop as explosions echo in the distance. "We are killed by your silence," he says. "(Syrian President) Bashar al-Assad, (Russian President Vladimir) Putin, and (Supreme Leader of Iran, Ayatollah Ali) Khamenei …" He stops. An explosion thunders in the distance.Visibly shaken, his voice breaks, coming out strangled and emotional as he continues: "Khamenei killed our childhood."CNN cannot independently verify the authenticity of these videos. The death toll is personal for Najem. He says one of his friends was killed in a bombing earlier this month. He told CNN they were playing in the street, just like most days, when the airstrikes began and everyone sprinted into basements. One of the friends didn't make it, and another was injured.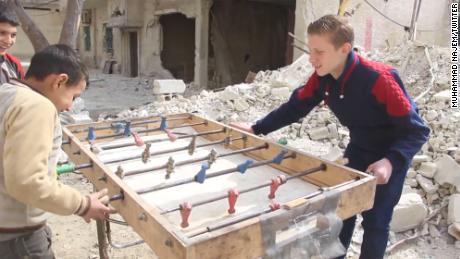 The next day he tweeted, "Yesterday we were playing together in the underground shelter. Today my friend and his family were killed by a fighter plane that put his life to death." It was February 8. The White Helmets, a volunteer search and rescue group, said 80 people died in eastern Ghouta on that day alone. Najem later posted a video he said was the chaotic scene in that airstrike's aftermath. The streets are covered in inches of chalky ash, the air still choked with white smoke. In the video, a group of men load a victim onto a stretcher into the back of a white van — a makeshift ambulance. The men load another victim into another van as Najem records the scene.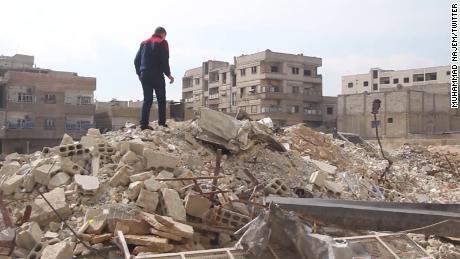 The airstrikes on February 8 also hit three medical facilities, killing even more people, according to a medical group operating in Syria. CNN is unable to determine if the victims loaded into the vans shown in Najem's video survived.Najem has also reported on the dire state of medical facilities. In a video posted in December, he stands in front of a massive rubble pile wearing a Bart Simpson hoodie and explains that the hospital is running out of medicine. "The humanitarian and medical situation in eastern Ghouta is difficult to describe with words. What is happening now is genocide," he says, his voice thick with emotion.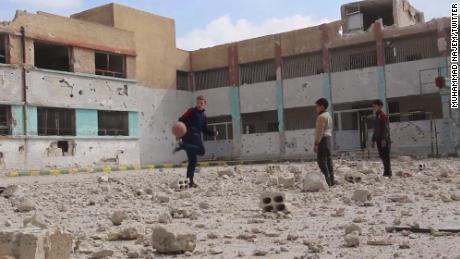 Najem also interviews children in his neighborhood: young boys and girls who should be in school, but instead are bracing for the next round of bombs to drop.In December, he asked for their New Year's wishes. One young boy, speaking very matter-of-factly, wished the Assad regime would let his father out of prison. Another young boy, barely old enough to remember a peaceful Syria, simply wished he wouldn't have to carry firewood and water anymore."We know that you get bored from our blood pictures," Najem says in a recent video, directly into the camera, directly to his viewers. "We know you have seen videos how they kill us. But we will continue appealing to you." In another video, he adds: "Save the children of Ghouta please."
Original Article
[contf] [contfnew]
[contfnewc] [contfnewc]