But experts say the Libya model is a dangerous one to trot out when discussing North Korea.Libyan leader Moammar Gadhafi agreed to abandon his nuclear ambitions in exchange for sanctions relief in the early 2000s. Within years, Gadhafi was overthrown and killed by rebels backed by Washington.Analysts who study North Korea say Pyongyang often cites Gadhafi's case to show that only nuclear weapons can deter the United States in the long-term to ensure the survival of the Kim Jong Un regime.Bolton appeared to use the Libya case as an example of how North Korea might develop the trust of international partners, just days after after Kim committed to the "complete denuclearization" of the Korean Peninsula during a historic summit with South Korean President Moon Jae-in."One thing that Libya did that led us to overcome our skepticism was that they allowed American and British observers into all their nuclear related sites. So it wasn't a question of relying on international mechanisms. We saw them in ways we had never seen before," Bolton told CBS News.
Summit preparation
Both US Secretary of State Mike Pompeo and Bolton are preparing for Trump's upcoming summit with Kim, which the US President said could happen in three to four weeks.Trump shocked the world last month by accepting an invitation to sit down face-to-face with the North Korean leader after a year of saber-rattling from Washington and Pyongyang.It's unclear where exactly the two will meet, but Trump suggested Friday the shortlist was down to two to three locations.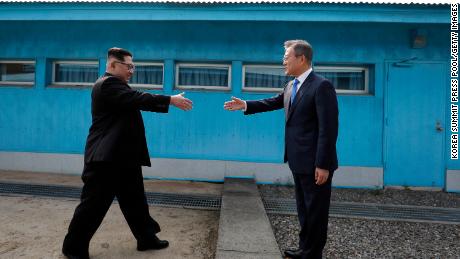 Pompeo and Bolton have made it clear that a major factor in determining the success of a Kim-Trump summit — which would be the first meeting between a sitting US President and a North Korean leader — will be whether both sides can develop a modicum of trust between each other. The secretary of state became the highest ranking US government official to ever meet Kim over Easter weekend, traveling to Pyongyang where the two discussed the upcoming talks, Pompeo said Sunday."We have a long history of negotiating with North Korea. Repeatedly, they have taken actions only to find that those promises proved false or unworthy or they were incapable of keeping them," said Pompeo. "My goal was to try and identify if there was a real opportunity there. I believe there is."
Chinese minister to visit North Korea
Friday's inter-Korean summit was a spectacle filled with pageantry and history-making moments, with Kim becoming the first North Korean leader to travel to South Korean soil since 1953.Now, the young North Korean leader appears to be moving quickly on the diplomatic front.Kim will welcome Chinese Foreign Minister Wang Yi for a visit in the coming days, and the South Korean presidential office said Pyongyang planned to shutter the country's nuclear test site and invite foreign journalists and experts to ensure "transparency" around its closure. "The United States, though inherently hostile to North Korea, will get to know once our talk begins that I am not the kind of person who will use nuclear weapons against the South or the United States across the Pacific," Kim was quoted as saying by Moon's spokesman Yoon Young-chan on Sunday.But despite the cautious optimism emanating from Pyongyang, Seoul and Washington, experts say the real work is yet to come. "As we go from really broad details into more and more definitive outcomes, it's going to be tougher and tougher to keep the whole team on board," said Melissa Hanham, a senior research associate at the James Martin Center for Nonproliferation Studies.South Korea on Monday began to dismantle speakers along the highly militarized border with North Korea after the two Koreas agreed to stop broadcasting propaganda across the border in Friday's post-summit declaration.The speakers had been playing on a regular basis since January 2016, when they were turned back on as a response to North Korea's fourth nuclear test. They were used to broadcast Korean pop music, news and weather forecasts — snippets of everyday life in the South that are strictly off limits for North Koreans.
Challenges ahead
Friday's summit ended with Moon and Kim agreeing to the "complete denuclearization"of the Korean Peninsula and the formal end of the Korean War, a conflict that is still technically ongoing as hostilities ended with a truce rather than a treaty.Moon and Kim's commitments were made in a three-page joint declaration that analysts say has lofty goals but is scant on details.If negotiations were to reach a phase where North Korea is required to declare weapons, experts say a deal with Pyongyang might be complicated and would see the United States push for invasive mechanisms — like the continued presence of international monitors inside North Korea — that Kim may balk at."Not only would we be watching their uranium enrichment facility — the one we know about — their plutonium reprocessing facility and their reactors that we know about in Yongbyon, we would have to hope that there were no other facilities that we didn't know about that were enriching uranium," said Hanham, the nonproliferation expert.Then there's the issue of the warheads they've already made, the nuclear weapons that are meant to be fitted atop missiles."They're small and can be moved around the country and they can be hidden," said Hanham. "We would have to worry about whether they did or didn't declare all their warheads to us."Follow Joshua Berlinger on Twitter
Original Article
[contf]
[contfnew]

[contfnewc]
[contfnewc]