The gradual acceptance of digital currencies, with major exchanges about to launch bitcoin futures trading, may prompt some oil producing nations to ditch the US dollar in crude trade in favor of cryptocurrencies, an oil analyst says.
Russia, Iran and Venezuela have more than one thing in common. All three are major oil producing nations dependent on the dollar since the global crude market is traditionally dominated by contracts denominated in US currency.
Read more
Moscow, Tehran and Caracas are also facing US sanctions; penalties which are proving effective since the sanctioned countries are dependent on the US dollar to sell their crude.
READ MORE: Iran suggests Russia help 'isolate the Americans' by ditching dollar
A decentralized currency – allowing anonymous transactions along with blockchain technology support to facilitate oil contracts – may be the ideal tool to allow the oil producing trio to turn their back on the greenback.
"The advent of cryptocurrencies, therefore, represents a fresh catalyst for commodity-producing countries wishing to abandon the dollar as a means of payment for oil," said Stephen Brennock, oil analyst at PVM Oil Associates, in a research note seen by CNBC.
Several oil producers have already voiced plans to ditch the dollar in oil trading. Last week, Venezuela announced it will launch its own cryptocurrency, the "Petro," which will be backed by the country's vast natural resource reserves.
Read more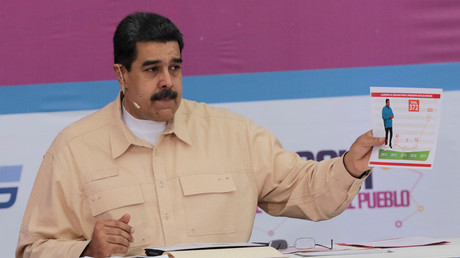 Russia, China and Iran are currently pursuing currency swap agreements to eliminate the US dollar from trade. One of the world's biggest crude importers, China, has also announced the launch of the petro-yuan to replace the greenback in oil transactions.
READ MORE: Ruble-yuan trade between Russia & China makes dollar odd man out
While currency swaps are being considered, cryptocurrencies, once they become less volatile, offer several advantages. Instead of using various national currencies, they provide a common currency for countries seeking to avoid using the dollar. They are also universal and flexible, easily convertible back to national currencies.
Cryptocurrencies provide yet another advantage to countries facing international sanctions. They are anonymous and decentralized, which limits the effect of US economic sanctions on trade deals for countries like Russia, Iran and Venezuela.
[contf] [contfnew]
[contfnewc] [contfnewc]
The post Russia may turn to cryptocurrencies in oil trade to challenge sanctions & the petrodollar appeared first on News Wire Now.