A spokesperson for the Social Democrats, (SPD) confirmed it had reached a deal with Merkel's center-right CDU/CSU, but stressed that it would need to be formally approved by the party's 460,000 members.The announcement represents a huge breakthrough for Merkel, who has struggled to form a government since suffering embarrassment at September's election.The deal paves the way for a return to the so-called "grand coalition" between the CDU and SPD, which governed prior to the last election. It would also leave the right-wing Alternative for Germany party as the main opposition in the German parliament.The AfD's anti-immigration stance proved popular with voters, taking it to 12.6% of the vote, a political earthquake in Germany.
Back together
The agreement represents a U-turn by the SPD, which had originally said it would rather rebuild itself in opposition than prop up another Merkel administration, after suffering its worst election result since World War II.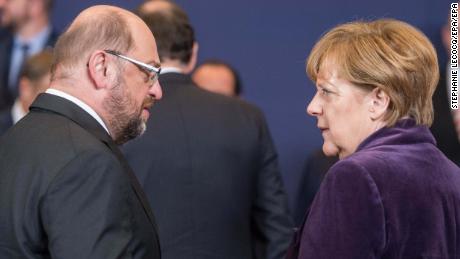 But after talks between Merkel's CDU, FDP (Free Democratic Party) and Green Party collapsed in November, party leader Martin Schulz was dragged back in under pressure from President Frank-Walter Steinmeier, who warned the country's leading politicians against the prospect of fresh elections.The SPD did at least manage to extract some gains from Merkel, notably in the form of taking control of the finance ministry.A recent poll from public broadcaster ARD showed that 52% of respondents did not think another grand coalition was a good idea.
CNN's Nadine Schmidt reported from Berlin. James Masters wrote from London.
Original Article
[contf] [contfnew]
[contfnewc] [contfnewc]