Manchester City manager Pep Guardiola wore the ribbon at Wembley during the Carabao Cup final against Arsenal on Sunday, despite being charged last week by the English Football Association for "wearing a political message" — which it says is in breach of its kit and advertising regulations. "If I broke the rules, I accept the fine," the Guardiola told reporters after City's 3-0 win.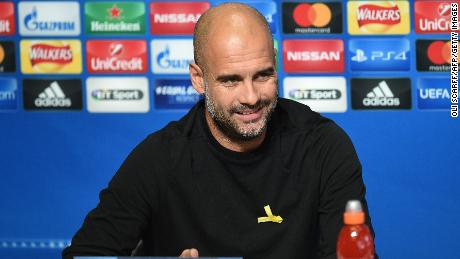 The Catalan native says he wears the yellow ribbon in support of four Catalan leaders who have been imprisoned for sedition and rebellion following October's independence referendum — which was ruled illegal by Spain's top court.
'I'll always wear the yellow ribbon'
"Before a manager, I am a human being," said Guardiola, who was both player and coach for Catalan club Barcelona. "It's not about politicians, it's about democracy; it's about helping the people who didn't do absolutely anything."READ: Pep Guardiola: Premier League schedule is going to 'kill' playersHe said like Brexit and the Scottish independence referendum, Catalonia was simply seeking a similar peaceful process.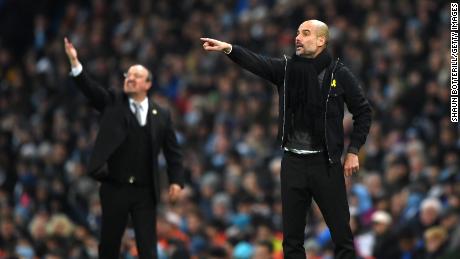 The FA told CNN it had no further comment on Guardiola defying the charge — which he has until 6pm on March 5 to officially respond to."They (the FA) know I'll wear the yellow ribbon always," added Guardiola. "I can wear it somewhere else, not just on my chest."They know I'll wear it."READ: Pep Guardiola: EPL fixture list a 'disaster' for player well being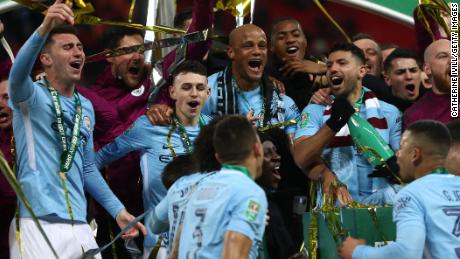 The FA's "kit and advertising regulations" states: "The appearance on, or incorporation in, any item of clothing (including football boots) of any distasteful, threatening, abusive, indecent, insulting, discriminatory or otherwise ethically or morally offensive message, or any political message, is prohibited."But Guardiola noted European football's governing body UEFA had less draconian rules."The Union of European Football has another opinion regarding these issues," said Guardiola. "They say you can wear anything as long as you show it with respect. Here, apparently, it's different."
Fans turn yellow in support
Many have come to the support of Guardiola, particularly Manchester City fans."If you're a true City fan wear a yellow ribbon on Sunday at Wembley as protest for the charges set by FA on our manager," one user wrote."Presumably it's OK for players and managers to wear the logos of multi nationals that dodge their taxes and exploit workers in the world's poorest nations but it's a crime to support someone who's been illegally jailed," Scottish National Party politician, Peter Grant wrote on Twitter.Others went to lengths of making their own yellow ribbons to hand out to fans on game day.Some questioned the FA's decision to charge Guardiola days before the cup final — despite the fact he's been wearing it for months."Strange move by the FA charging Pep Guardiola for breaching 'kit and advertising regulations' because of his yellow ribbon. Why now all of a sudden? Surely he has as much right to wear that as a poppy?"Late last year the FA was involved in a row with football's world governing body, FIFA, after being fined for displaying a poppy on the English and Scottish teams armbands during their World Cup qualifier.READ: World Cup 2018: Who are the favorites?FIFA deemed the symbol — which commemorates Armistice Day — in breach of its strict laws against political symbols.It later U-turned on its decision and issued new guidelines which permitted players to remember those who gave their lives in battle and display poppies on their armbands — provided they seek permission from the opposition team.
[contf] [contfnew]
[contfnewc] [contfnewc]