The EU's envoy in Moscow will return over the weekend "for consultations" while some member states were preparing to follow Britain's lead and expel Russian diplomats over the affair.In a joint statement, EU leaders said they agreed with UK Prime Minister Theresa May that it was "highly likely" that Moscow was responsible for the attack on the Russian former double agent Sergei Skripal and his daughter Yulia in Salisbury, southern England, on March 4. The statement added that "there is no plausible alternative explanation."May welcomed the EU's support."The threat from Russia is one that respects no borders and I think it is clear that Russia is challenging the values we share as Europeans and it is right that we are standing together in defense of those values," May said on Friday."I think what is crucial, though, is that there (was) recognition around the table last night about the threat that Russia poses," she added.Speaking ahead of Friday's European Council meeting of EU leaders in Brussels, Irish Taoiseach Leo Varadkar said: "We agreed as a European Union to express full solidarity with the United Kingdom — to agree with their assessment as to who is behind the Salisbury attack, and also to recall the EU ambassador to Russia to Brussels for consultations."He added that "individual countries will decide in the coming days whether they want to take additional actions."Ireland, Denmark, Lithuania and the Czech Republic were considering further measures, including the expulsion of diplomats. After meeting with May in Brussels on Thursday night, EU leaders expressed the bloc's "unqualified solidarity with the United Kingdom in the face of this grave challenge to our shared security."According to the UK, the Skripals were exposed to a Soviet-era nerve agent known as Novichok, a colorless, odorless and tasteless liquid described as one of the world's most sophisticated and deadly chemical weapons. Russia has furiously denied claims it was involved in the attack, sparking a diplomatic crisis between the two countries.The Skripals remain hospitalized in a critical condition.Kremlin spokesman Dmitry Peskov said Russia regretted the European leaders' decision to recall the EU ambassador, adding that his country had not had access to the information on which the decision was based.Asked how Russia would respond if other individual EU nations recalled their ambassadors, Peskov said: "First, we need to wait for any decisions and understand on what basis they were taken. Then we can start talking about something."The UK government expelled 23 Russian diplomats from Britain in the wake of the attack. Russia in turn ordered the expulsion of 23 British diplomats from Moscow, as well as closing the UK consulate in St. Petersburg and the British Council cultural institute in Russia.
Further steps
Varadkar said Ireland expected to make a formal decision on expulsions early next week."What we will now consider in the coming days is whether we want to take individual action relating to Russian diplomats in Ireland," he said. "Bear in mind, what the United Kingdom did was to expel 23 diplomats who they believed weren't actually diplomats. So, we would have to do a security assessment — just like they did — before that. We're not going to randomly expel people who are genuine diplomats."Danish Prime Minister Lars Løkke Rasmussen told reporters in Brussels that his government would "take into very close consideration" in the coming days whether to take a unilateral step."I have just briefed my minister of foreign affairs and he will now go to the Foreign Affairs Committee in the Parliament later this morning, and then my government will in the next coming days very, very seriously consider to take further steps," he said.Czech Prime Minister Andrej Babiš is moving toward a decision to expel Russian diplomats, his spokeswoman Barbora Peterová told CNN.Asked in Brussels if Lithuania was also considering expelling Russian diplomats, President Dalia Grybauskaite said: "The united response was yesterday and, from the beginning of next week, a lot of countries will go for our national measures."The European Council said Thursday that member states would have to coordinate on how to proceed following the attack, including what the consequences should be for Russia going forward."The use of chemical weapons, including the use of any toxic chemicals as weapons under any circumstances, is completely unacceptable, must be systematically and rigorously condemned and constitutes a security threat to us all," its statement said.Speaking to reporters as she arrived in Brussels on Thursday, May said Russia had staged a "brazen and reckless attack" against her country."It's clear that the Russian threat does not respect borders and indeed the incident in Salisbury was part of a pattern of Russian aggression against Europe and its near neighbors," she said.Varadkar said after the meeting that other countries beside the United Kingdom had shared their intelligence assessments on what happened in Salisbury. In a briefing Friday at the Russian Ministry of Foreign Affairs, deputy spokesman Artyom Kozhin said EU condemnation of the incident in Salisbury was "regrettable."Kozhin said the European Council's statement Thursday agreeing with the British assessment of likely Russian responsibility "is in essence an unproven allegation" against Russia."We are fully prepared to work with the British, but the British side is avoiding cooperation," he said. "We believe that it is possible to continue an exchange of views within the framework of the appropriate international structure, the Organization for the Prohibition of Chemical Weapons."
Police officer released from hospital
Technical experts from the OPCW have been in Salisbury this week, collecting samples for further analysis.A British court ruled Thursday that they could take blood samples from the Skripals to check against the analysis performed by the UK military's Porton Down research laboratory.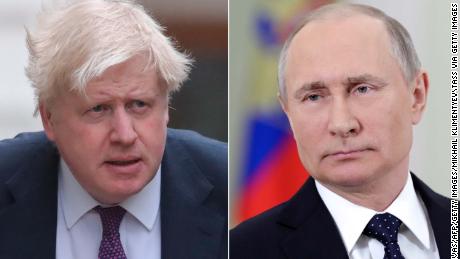 "The precise effect of their exposure on their long-term health remains unclear, albeit medical tests indicate that their mental capacity might be compromised to an unknown and so far unascertained degree," Judge David Williams wrote in his judgment allowing access to the Skripals.Court documents quoted an unidentified doctor as saying the Skirpals were both heavily sedated and unable to communicate, and that it was not possible to assess to what extent either would be able to regain mental capacity.A total of 21 people received medical attention after the incident, including Detective Sergeant Nick Bailey, who was discharged from the hospital Thursday, according to a statement from Wiltshire Police.Bailey, who became seriously ill after being exposed to the nerve agent, said in a statement that he'd been overwhelmed with messages of support from other officers and the public. "I understand why there is attention on me, but all I have done is represent every police officer who goes out there every day and puts their life at risk," he said.Russia's ambassador to the UK, Alexander Yakovenko, hinted Thursday at possible British involvement in the poisoning, as he questioned how British authorities could have so quickly determined the type of poison used in the attack.
CNN's James Frater reported from Brussels and Laura Smith-Spark wrote from London. CNN's Nathan Hodge, Milena Veselinovic, Nada Bashir, Radina Gigova, Emma Burrows, Simon Cullen and Ben Westcott contributed to this article.
Original Article
[contf]
[contfnew]

[contfnewc]
[contfnewc]