Founded as a political party in 2011, Britain First is an ultra-nationalist organization that opposes immigration and claims to have "a proven track record of opposing Islamic militants and hate preachers."According to Searchlight, a magazine that investigates and reports on far-right and fascist groups, Britain First emerged as a splinter group following a collapse in support for the far-right British National Party. But it is far from being a mainstream organization in the UK. It has no elected representatives at any level of British politics and was "deregistered" as a political party earlier this month by the UK Electoral Commission. Its occasional protests rarely attract crowds of more than a few dozen.In its mission statement, Britain First describes itself as "a patriotic resistance and 'frontline' for our long suffering people" that will "restore Christianity as the bedrock" of national life and put British workers first."We want our people to come first, before foreigners, asylum seekers or migrants and we are overtly proud of this stance," it says. "We will not stand back and watch as our people are made second class citizens by leftwing-liberal policies and political correctness."The mission statement says that it would end all immigration to the UK.The videos retweeted by Trump's account allegedly depict Muslims assaulting people and, in one video, smashing a statue of the Virgin Mary.They were posted by Jayda Fransen, the party's deputy leader since 2014, who reacted jubilantly online, highlighting that the videos had been shared with Trump's nearly 44 million followers. "GOD BLESS YOU TRUMP!" she wrote in all caps.Fransen, who has about 60,000 followers of her own on Twitter, is no stranger to controversy — or the UK legal system.She was found guilty of religiously aggravated harassment in November 2016 for abusing a Muslim woman wearing a hijab while she was with her four children. Fransen was fined.She also faces four charges of causing religiously aggravated harassment as part of a Kent Police investigation into the distribution of leaflets and the posting of online videos during a rape trial of four men of Afghan origin in May. She pleaded not guilty to the charges at a court hearing in October, CNN affiliate ITV News reported.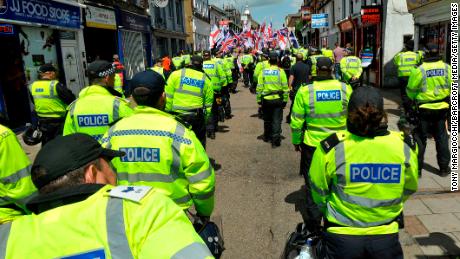 On November 19, she was arrested and charged for using threatening, abusive or insulting words or behavior after a speech made in Northern Ireland against terrorism. She has not yet entered a plea but in a Twitter video, party leader Paul Golding described the charges as without merit.In 2015, a court temporarily barred Fransen and Golding from entering mosques or Islamic centers without prior invitation. Police had asked for the ban following a Britain First demonstration in Luton, a town with a large Muslim population, in which the group was accused of offensive actions and remarks. The following year, police obtained an injunction from the High Court that banned the pair from mosques for three years.Britain First has not yet responded to a CNN request for comment.On its website, Britain First says it "rejects racial hatred in all its forms" and that members of ethnic minorities regularly attend its events. CNN has not been able to verify that claim.
CNN's Carol Jordan and Katie Polglase contributed to this report.
Original Article
[contf] [contfnew]
[contfnewc] [contfnewc]