The pontiff's first visit to the staunchly Buddhist southeast Asian country, and the first ever by a sitting Pope, comes amid allegations of ethnic cleansing of the minority Rohingya Muslims in northern Rakhine State.In his sermon, the Pope said: "I know that many in Myanmar bear the wounds of violence, wounds both visible and invisible…We think that healing can come from anger and revenge. Yet the way of revenge is not the way of Jesus."Squinting in the sun, crowds of Burmese worshipers waved Vatican and national flags while Francis passed them in the Popemobile, as he made his way to the temporary altar at the Kyaikkasan Sports Ground in Yangon."Many of you have come from far and remote mountainous areas, some even on foot," he spoke in Italian to the crowd. "I have come as a fellow pilgrim to listen and to learn from you, as well as to offer you some words of hope and consolation."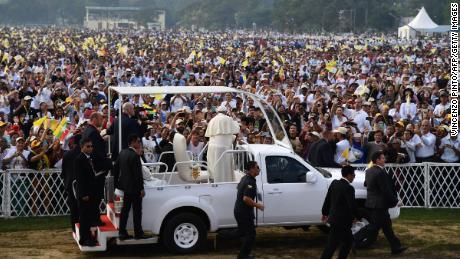 Dressed in pink, Daw Hseng said she left her home in Myitkyina, the capital of Kachin State, around 1,600 kilometers (1,000 miles) from Yangon, nearly a week ago to make it to the Mass in time."We slept on the road," she told CNN. "The train just went direct, we didn't stop. We rode the whole night."Asked about the violence currently endured by the Rohingya Muslims amid ongoing fighting between Muslim militants and Myanmar's military, she said: "Of course I hope for peace." "I want things to become peaceful because it's not easy. It's not easy to live and find work and eat. It's very difficult," she said.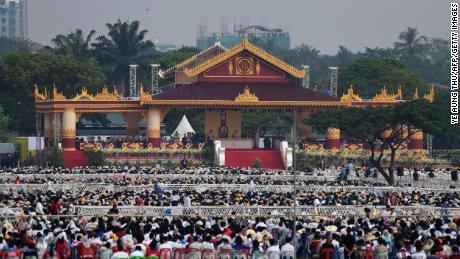 Pope Francis will spend three days in Myanmar before he travels to Bangladesh on Thursday, where he's expected to meet at least a small group of Rohingya refugees while in the capital Dhaka. The last pope to visit Bangladesh was Pope John Paul II in 1986.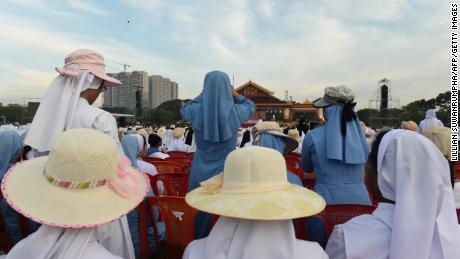 Avoids saying 'Rohingya'
One of the biggest challenges facing Pope Francis before he had even set foot in Myanmar was whether he would say the word "Rohingya" when referring to the ethnic minority that has fled southern western Rakhine State en masse to neighboring Bangladesh.More than 620,000 Rohingya have become refugees since violence broke out in August. They allege that Myanmar's military has murdered children, raped women and razed villages. Burmese authorities deny the accusations. They say they are targeting militants responsible for killing security personnel after coordinated attacks on police posts in August.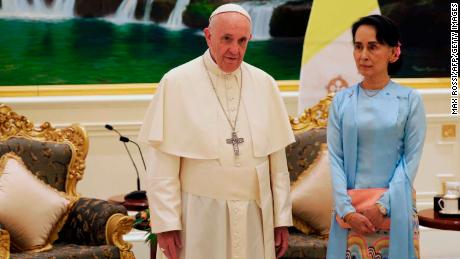 Myanmar's de-facto leader Aung San Suu Kyi has only ever used the term "Rohingya" publicly when referring to the Arakan Rohingya Salvation Army or ARSA, the militant group active in the region. On Tuesday Suu Kyi and Pope Francis both spoke publicly and both avoided controversy."Of the many challenges that our government has been facing, the situation in the Rakhine has most strongly captured the attention of the world," Suu Kyi said. "It is the aim of our Government to bring out the beauty of our diversity and to make it our strength, by protecting rights, fostering tolerance, ensuring security for all."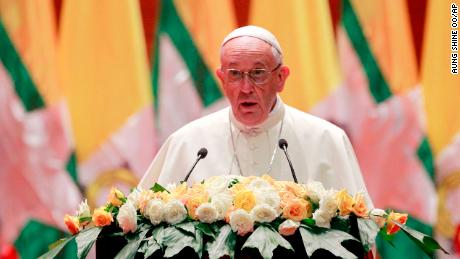 Pope Francis' comments would likely disappoint human rights activists who, together with foreign diplomats, including US Secretary of State Rex Tillerson, have condemned Myanmar and accused its military of ethnic cleansing.On Tuesday, Francis didn't specifically address allegations of ethnic cleansing, but said religion has an important role to play in solving the crisis."The arduous process of peace-building and national reconciliation can only advance through a commitment to justice and respect for human rights," he said, according to a translation provided by the Vatican.
Journalist Manny Maung reported from Yangon, CNN's Jamie Tarabay reported and wrote from Hong Kong.
Original Article
[contf] [contfnew]
[contfnewc] [contfnewc]