The second day of the international match was halted three times Sunday as a thick blanket of smog descended on Delhi's Feroz Shah Kotla Stadium. Then, the Air Quality Index (AQI) was over 200, which is considered "very unhealthy." On Monday morning it was around twice that, what's considered "hazardous," according to the AQI.New Delhi residents have endured dense smog for weeks now that's prompted school closures, partial bans on private cars and a surge in patients at hospitals complaining of chest pain, breathlessness and burning eyes.After Sunday's game in the five-day test, Sri Lankan coach Nic Pothas said some players had become physically ill."The match referee was in our change room and the doctors, and Suranga (Lakmal), poor guy, was just continuously vomiting. Doctors were in there as well. Dhananjaya de Silva was vomiting. It was tough," Pothas said, referring to two of the players. The third time play stopped was because Sri Lankan fast bowler Lakmalwalked off the field. "I mean fast bowling is a very high intensity activity, and you could clearly see that two guys were struggling to perform that activity," Pothas said.The match referee was seen getting advice from the doctor, but nevertheless, the game went on, with the majority of the Sri Lankan players resorting to wearing anti-pollution face masks.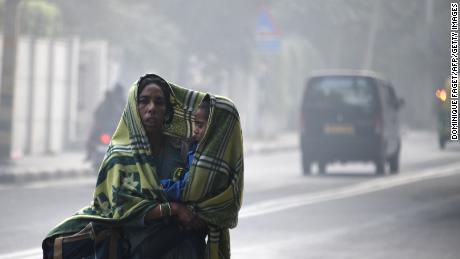 Flood lights had to be switched on because light readings were so low. Bharat Arun, India's bowling coach, seemed to downplay the poisonous conditions, saying they weren't too bothered by it. He noted that captain Virat Kohli, who struck a career-best 243, batted for two days without a face mask."He didn't need a mask. We are focused on what we need to do. The conditions are the same for both the teams… I don't think we need to be thinking about what the opposition does. It's their problem to keep their bowlers fit," he said in response to reporters' questions about the pollution.Kohli declared the innings on 536 shortly after the match was halted. Match commentators said that could have been because the game was being constantly stopped."Our intention was not to halt the play. We wanted to seek clarity of the situation… Safety of our bowlers and our players is paramount," Pothas explained. "The high level of air pollution in Delhi was well-documented, but what happened was a unique and abnormal case. It was not normal the way our players suffered."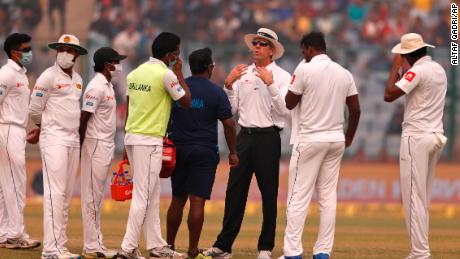 In cricket, there aren't a lot of rules regarding pollution. The decision of whether to go on is ultimately up to the match referee.Conditions aren't expected to improve any time soon; pollution levels are expected to remain high until winter ends. Temperatures are forecast to remain in the low-20s (mid-70s Farenheit) this week with little to no wind and no chance of rain, according to CNN's weather team.
Original Article
[contf] [contfnew]
[contfnewc] [contfnewc]