Russian figure skating world champion Evgenia Medvedeva has said she was trying not to "pay attention to the negative news related to Russian sports" before an IOC meeting to decide on the country's participation in the 2018 Winter Olympics in PyeongChang.
Medvedeva was part of the Russian delegation that attended the International Olympic Committee's (IOC) Executive Board meeting on Tuesday in Lausanne, Switzerland, which heard the IOC verdict to ban Russia from the Games.
Read more
At the meeting, the 18-year-old addressed IOC members by delivering an emotional speech in which she outlined her wish to represent Russia in PyeongChang.
"I cannot accept the option that I would compete in the Olympic Games without the Russian flag as a neutral athlete," Medvedeva said. "I am proud of my country, it is a great honor for me to represent it at the Games. It gives strength and inspires me during the performances."
The two-time world champion, who hasn't lost since November 2015 and is widely considered as number one contender to clinch the coveted Olympic title in the women's individual skating, said that by banning the Russian flag, the IOC defies the Olympic Charter principle which grants equal opportunities to all competitors.
"If I perform without a national flag, I will not be able to compete in the team. At the same time, my other rivals will have this opportunity. The Olympic Charter states that all athletes should have equal opportunities. And in this case there can be no question of equality."
Medvedeva also said the chance to compete in PyeongChang may be her only opportunity to win Olympic gold, as she is uncertain about her participation in the next Winter Games four years from now.
"In 2014, I was 14 years old. I have not even entered the adult national team of my country. For me personally, PyeongChang should be the first chance to plunge into the unique atmosphere of the Olympic Games. I do not understand why I and my Russian teammates can lose this chance."
READ MORE: 'They took our flag & anthem, but not our honor & convictions!' – Ilya Kovalchuk
Medvedeva also insisted she tried to remain uninvolved in the ongoing doping row surrounding Russia. "I have until the last moment tried not to pay attention to the negative news related to Russian sports. I thought that we, the 'clean' Russian athletes, had nothing to worry about. If someone really committed anti-doping rule violations, we certainly do not have anything to do with this," she said.
Following the IOC's announcement to suspend Russia's Olympic membership, Medvedeva stated it remains unclear whether she will take part in the Olympic figure skating tournament in South Korea.
Read more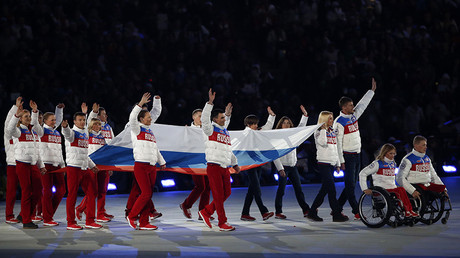 "Will I go to the Olympics? It will be discussed later. It's too early to ask such questions. Deep inside I feel I did everything I could. I was immensely happy to be here and to deliver my short speech [to the IOC]. I do hope that it produced the desired effect.
"I want to believe that Russia will turn this [doping] story into something positive. I know I'm supported by fans from around the world and I promise I will not give up and will continue working at full strength."
The IOC ruling, based on the findings of the Disciplinary Commission headed by former Swiss president Samuel Schmid, prohibited Russian athletes from competing in PyeongChang under their national flag, and handed lifetime Olympic bans to former Russian Sports minister Vitaly Mitko and former deputy minister Yuri Nagornykh.
No members representing the Russian Ministry of Sport will be accredited for the Olympic Winter Games PyeongChang 2018. The Olympic anthem and the five interlaced rings flag will honor the victories of Russian athletes who will compete as neutrals.
[contf] [contfnew]
[contfnewc] [contfnewc]