France plans to take in 10,000 refugees by 2019, with 3,000 people coming from a resettlement program in Niger and Chad.French President Emmanuel Macron announced the plan in the aftermath of CNN releasing video footage that showed migrants being sold into slavery in the North African country, some for as little as $400 each.Further flights from Niger are expected to land Tuesday and Wednesday in Paris, with additional arrivals set for January.
Formal investigation
On Tuesday, 25 people from Eritrea, Sudan and Ethiopia arrived at Paris' Charles de Gaulle Airport in the first flight out from Niger.The prescreened group included 19 women and children, including a 2-month-old baby, and six men.They will be housed in a convent in eastern France's Alsace region for four months, where they will receive psychological support and instruction in French.Then the nonprofit group France Horizon will help each individual find permanent housing.After obtaining footage of a human auction in Libya, a CNN team traveled in October to that country to investigate.It saw a dozen men sold at an auction outside the capital, Tripoli. The crew was told of auctions taking place at nine locations in the country.Libyan authorities have launched a formal investigation into the auctions under the Anti-Illegal Immigration Agency.
'Crime against humanity'
France has been at the forefront of attempting to help those escaping slavery find a safe passage away from Libya.In a speech last month following CNN's release of the footage, Macron labeled the sale of migrants at slave auctions in the North African country as "a crime against humanity" and vowed to press for international sanctions against Libya.News of the auctions sparked protests outside the Libyan Embassy in Paris. The International Organization for Migration also says it will fly 15,000 more migrants home from detention centers in Libya before the end of 2017.The UN migration agency says it has returned more than 14,007 migrants to their home countries this year already.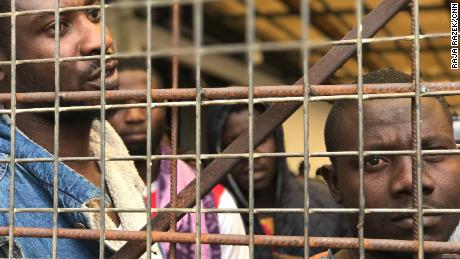 The United Nations estimates there are 700,000 migrants in Libya, and for years those who have crossed the Mediterranean have shared stories about beatings, kidnappings and enslavement.On Monday, UNICEF announced that 36,000 children in Libya are in need of assistance and that 14,000 of them are unaccompanied.Last week, Amnesty International accused European governments of being complicit in the torture and abuse of migrants and refugees in Libya.In a new report, the human rights group criticized European governments for supporting efforts by the Libyan coast guard to prevent migrants from crossing the Mediterranean and returning them to camps in Libya.
CNN's Saskya Vandoorne reported from Paris, and James Masters wrote from London. CNN's Melissa Bell contributed to this report.
Original Article
[contf] [contfnew]
[contfnewc] [contfnewc]
The post Refugees escaping Libya slave auction arrive in Paris appeared first on News Wire Now.