The African National Congress (ANC) has dominated South African politics since Nelson Mandela was elected in 1994, holding nearly three times as many seats as the next closest party in the National Assembly. However, as nearly 5,000 ANC delegates assemble this weekend to elect a new party leader to succeed President Jacob Zuma, the real task will be keeping the party from severing into two factions.
Driving the risk of a split is the potential victory of Nkosazana Dlamini-Zuma, the former wife of Jacob Zuma. Current Deputy President Cyril Ramaphosa has been battling Dlamini-Zuma for that same position, which is expected to ultimately decide who becomes president in 2019.
Cyril Ramaphosa, 65, is one of the richest in the country, and has promised to revive South Africa's economy whilst confronting allegations of "state capture." State capture, or "state of capture," refers to a widely spread report that President Zuma developed an all-too-close relationship with the wealthy Gupta family, and allowed them to control government institutions and loot public funds for personal gain.
There must be rule of law. Those who have done wrong must be taken to book and they must take full responsibility. When you intentionally do things that are wrong and act against the interest of the public, that is tantamount to treason

— Cyril Ramaphosa (@DPRamaphosa) December 14, 2017
Ms. Zuma, 68, has also promised to revive South Africa's economy through "radical economic transformation," which aims to place more wealth in the hands of the country's black majority. Despite being divorced from Jacob Zuma for nearly 20 years, she still receives his endorsement, and the two maintain close ties.
This is not the first time the ANC has faced the possibility of a split. The party is 105 years old, and its size alone has contributed to noteworthy rifts in the past. Following President Zuma's rise to the ANC leadership in 2007 and Mbeki's resignation as president in 2008, a number of former ANC leaders split away from the party to form the Congress of the People shortly thereafter. And in 2013, the country's largest trade union decided to ditch the ANC and form a socialist party of its own to protect the working class interests of its 350,000 members.
There is little doubt that Dlamini-Zuma has held an impressive political career in South Africa. She has been a member of Parliament, a former chairwoman of the African Union Commission, and the first female contender for ANC leadership.
Her close ties with Jacob Zuma, however, have also proved to be a double-edged sword as she struggles to separate herself from the corruption allegations against him.
People can accuse me of many things but not corruption. I'm not corrupt and I don't loot. Never have, never will be.

— Dr Dlamini Zuma (@DlaminiZuma) November 9, 2017
Cyril Ramaphosa says the allegations of corruption and state capture should be investigated and turned into charges as soon as possible.
"There is ample evidence of capture of key state institutions to advance private interests," Ramaphosa said to The Times of South Africa. "Efforts to divert public resources into hands of few families and individuals is continuing. The depth of state capture is fully revealed. Prosecution of those implicated does not need to wait for the commission. Those who have broken the law should be criminally charged and be made to account."
Pretoria's High Court ordered President Zuma on Wednesday to set up a judicial inquiry into the corruption allegations against him. Zuma had already tried blocking that order by using an application that would delay the Public Protector's State of Capture report, which was ultimately ignored by the court. Judge President Dunstan Mlambo said Zuma's attempt to challenge the watchdog's recommendations was "ill-advised and reckless."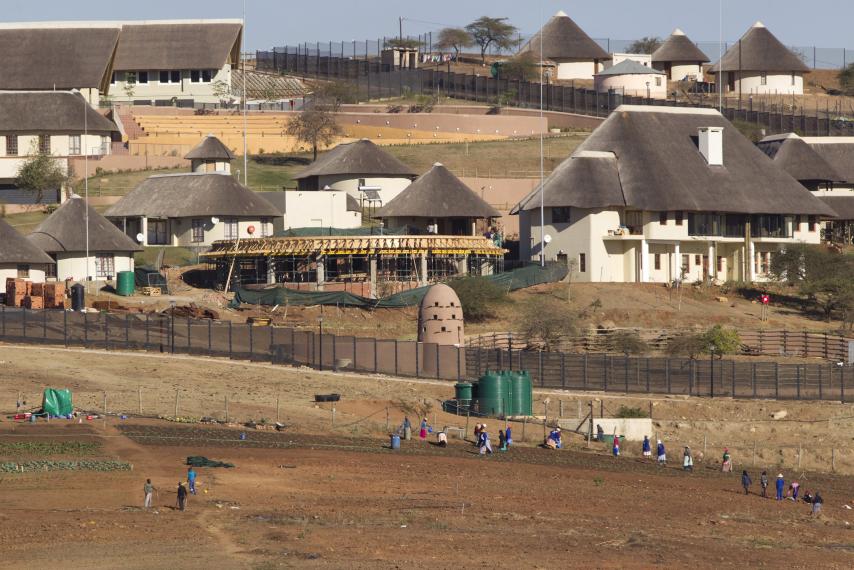 All of the drama surrounding ANC leadership just contributes to the already tense race between Dlamini-Zuma and Ramaphosa, which will come to a head on Saturday. If the election were to be predicted by the number of endorsements received, then Ramaphosa has good reason to believe he will beat Dlamini-Zuma. He's been backed by 1,860 local branches of the ANC, while she's only received the support of 1,330. A win is not guaranteed for Ramaphosa, however, as the delegates from each branch are allowed to vote for whomever they choose this weekend, regardless of any previous endorsement.
No matter how the votes come in, Nkosazana Dlamini-Zuma has called for a peaceful ANC conference, saying "we won't be rude and we don't expect anyone to be rude. We must interact with respect. It's a democratic process. It's not a fight against anybody."
[Title Photo: Jacob Zuma at an African National Congress (ANC) party. (EPA/ Cornell Tukiri)]
LIMA CHARLIE NEWS, with James Fox
Lima Charlie provides global news, insight & analysis by military veterans and service members Worldwide.
For up-to-date news, please follow us on twitter at @LimaCharlieNews
[contf] [contfnew]

[contfnewc] [contfnewc]
The post South Africa's largest political party fears split as Zuma loses grip on power appeared first on News Wire Now.