He turned to Facebook and posted a message requesting for applications from interested women.He wrote: "(I) am of age to and I am ready to say I do and I am wasting no time. Send in your applications. The most qualified will be married on January 6, 2018. Application closes 12 midnight, December 31 2017. "I am serious about this… and don't say you did not see it on time. Goodluck."Sophy Ijeoma was at a friend's wedding where she was maid of honor when the message caught her eye and she responded with a playful message, saying: "Am interested, just DM me…lols." Amedu sent her a private message and love blossomed via Facebook messenger. One week later, they were married.
'I jokingly replied'
Ijeoma, a makeup artist, said she "jokingly replied." "I never knew he was serious about the post," she added. But Amedu, who felt he was "of age" to get married, was very serious.He said: "I had given myself a timeline and I didn't want to wait anymore."The couple had been friends on Facebook for a year, but had little interaction.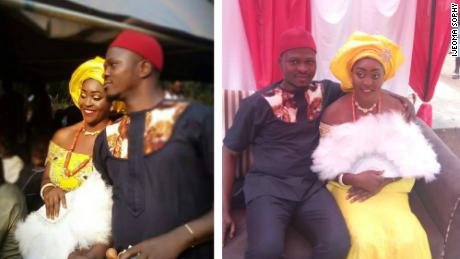 Amedu said: "She likes and comments on my posts from time to time. I was surprised that she replied the message and so it piqued my interest and I immediately messaged her."Their first date was at a mall in her hometown Enugu in southeastern Nigeria. Amedu took one look at her and said, "You're beautiful," Ijeoma recalls.
Tying the knot
Romance blossomed quickly and two days after their first meeting Amedu proposed and she said "yes."She said his unusual approach to finding love was what captivated her. "I fell in love with him, especially for his courage."The pair wasted no time in making wedding plans and meeting family members, who were hugely supportive of the match made on Facebook.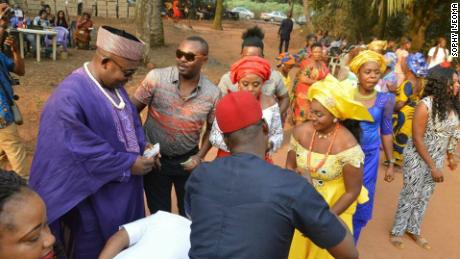 The entire wedding was planned in four days, but not before they took a test to find out if they were medically compatible to have children together. Nigeria has a high incidence of sickle cell anemia and couples are advised to check their genotypes match to avoid having babies with the illness. On January 6, 2018, the couple got married in a traditional Igbo ceremony.Chidimma said, "At first, her family thought I was not serious but I proved to them that I was." The pair say they are determined to prove those who say they rushed into marriage wrong. "I am happy that I married him. He is my kind of man," Ijeoma said.
Original Article
[contf] [contfnew]
[contfnewc] [contfnewc]