Just hours ahead of the 2018 PyeongChang Winter Olympics Opening Ceremony on Friday, South Korean protesters scuffled with police as they burned North Korea flags and images of dictator Kim Jong-un.
Despite the popular narrative of a "diplomatic" Olympics where South Korea and North Korea are putting aside differences to present a united face to the millions watching, protesters believe the warming between the two countries may advance Kim's nuclear ambitions. Many South Koreans have been outraged that the two countries will field a joint women's hockey team and their leaders will engage in diplomatic gestures while North Korea routinely threatens violence.
Reuters reported on Friday:
Protesters scuffled briefly with police and criticized South Korean President Moon Jae-in, who is using the Olympics to re-engage with the North and pave the way for talks over the reclusive state's nuclear and missile program.

They carried banners reading "Moon Regime is leading Korea to destruction" and one that made an appeal to U.S. President Donald Trump: "Mr. President. North Korea bombing, please."
Anti-North Korean protesters wave flags and shout slogans as a ferry carrying a North Korean art troupe for the Pyeongchang 2018 Winter Olympic Games approaches the port of Mukho in Donghae on February 6, 2018. (ED JONES/AFP/Getty Images)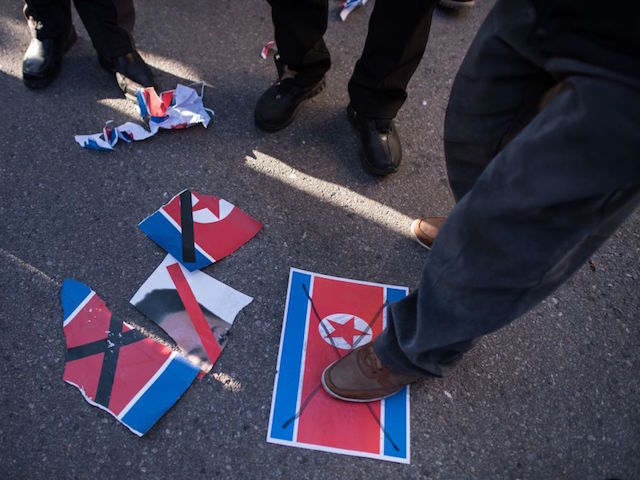 Anti-North Korean protesters step on a North Korean flag as a North Korean ferry carrying an art troupe for the Pyeongchang 2018 Winter Olympic Games approaches the port of Mukho in Donghae on February 6, 2018. (ED JONES/AFP/Getty Images)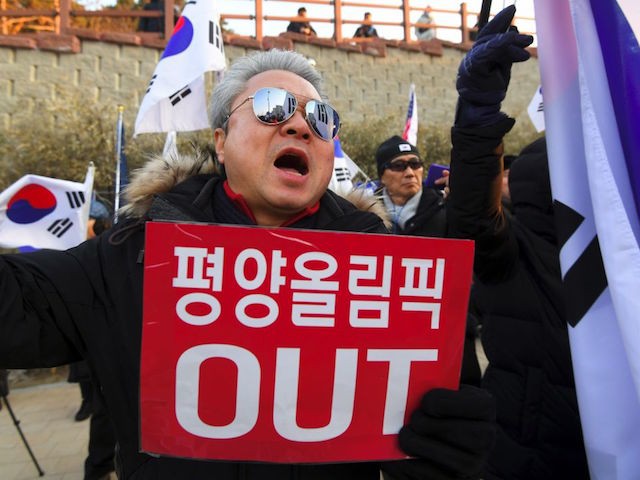 An anti-North Korea protester holds a red banner reading "Pyongyang Olympic Out" during a rally against planned North Korea's musical concert near the Gangneung Art Centre in Gangneung, the host city of the ice venues for the Pyeongchang Winter Olympic Games, on February 8, 2018.(JUNG YEON-JE/AFP/Getty Images)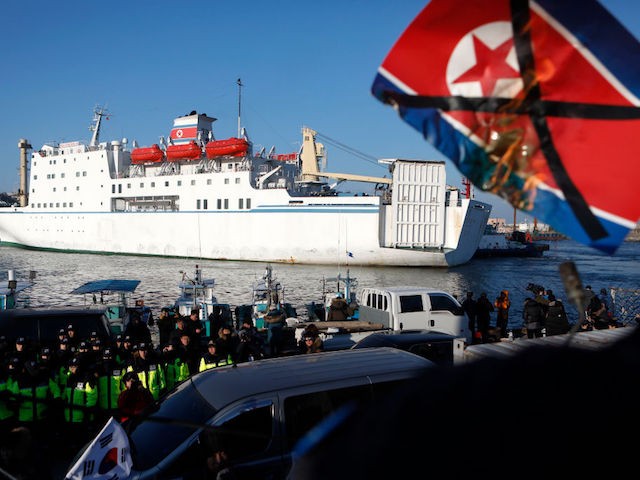 Anti-North Korean activists burn Kim Jong-un's portrait while the North Korean ferry, Man Gyong Bong arrives at Mukho Port in Donghae, South Korea on February 6, 2018 in Donghae, South Korea. (Woohae Cho/Getty Images)
Yahoo News reported last month on what it called "sporting diplomacy:"
In a flurry of sporting diplomacy, the two Koreas agreed this month that the North would attend the Games, the two would march together under a unification flag at the opening ceremony, and they would form a joint female ice hockey team — a deal approved by the IOC on [Jan. 20].

Under the terms, 12 North Koreans will be added to the 23-strong South Korean squad, with 22 of them — the same size as other countries' teams — chosen to take part in each game, including at least three North Koreans.
Yahoo News reported that a January survey found 73 percent of South Koreans saw no need for a joint team.
And Seoul's conservative Dong-A Ilbosaid in an editorial that the team coach's ability to pick a team was diminished.
"The South Korean government is focused on hosting peaceful Olympics and says 'yes' to everything North Korea wants," the editorial said.
The South Korean media outlet Yonhap News reported this week:
North Korea slammed anti-North Korea activists Wednesday for having held a rally against the North's participation in the PyeongChang Winter Olympics when its art troupe arrived in South Korea a day earlier for performances.

The Samjiyon art troupe traveled to the South by ferry Tuesday to perform in celebration of the Winter Games on a rare trip that involved Seoul's temporary exemption of a North Korean ship's sea travel from its sanctions.

Members from conservative civic groups held a rally against the art group's arrival at the Mukho port on the east coast, burning North Korea's flag and a photo of North Korean leader Kim Jong-un.
"They put an affront on the mission that came to celebrate an event of the nation, far from presenting bouquets. In fact, they are no more than a group of benighted gangsters inferior to beast, human scum," the Korean Central News Agency (KCNA) said in English.
The anti-North Korea protests in South Korea have been ongoing in the lead up to the games.
The Korea Heraldreported the protesters are part of the conservative Korean Patriots Party, which "held a press conference in front of Seoul Station" as "a group of North Korean officials arrived at the train station from the eastern city of Gangneung, on the second day of their two-day trip for inspection of performance venues."
"The PyeongChang Winter Olympics is turning into 'Kim Jong-un's Pyongyang Olympics' that effectively recognizes its nuclear armaments and propagates the North Korean regime," the protestors said.
[contf] [contfnew]
[contfnewc] [contfnewc]