Arriving at an official reception in New Delhi Friday, Trudeau was at last met by his Indian counterpart Prime Minister Narendra Modi, who clasped the Canadian leader in his arms. Following bilateral talks, the two leaders appeared side-by-side at a press conference at Rashtrapati Bhavan, the Indian presidential palace, Friday afternoon.Trudeau, who leaves India Saturday, reiterated the two countries rich shared history and natural kinship. Discussing the possibility of expanding trade links, Trudeau described India as "a natural partner and a trusted friend for commercial cooperation."Modi, too, appeared to underscore the links between the two countries. "India has attached a high importance to pursuing its strategic partnership with Canada. Our ties are based on democracy, pluralism, the supremacy of law and the mutual interaction."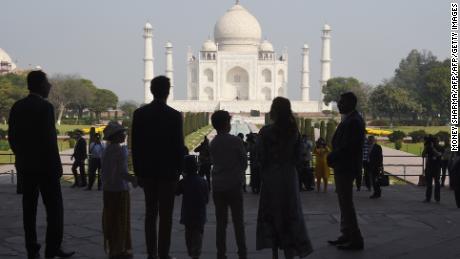 Trudeau's India trip has been at times overshadowed by a series of poorly-judged missteps and unfortunate headlines, including the suggestion he had been deliberately "snubbed" by Modi over the Canadian government's alleged indulgence of Sikh separatists.The fact that the two leaders didn't meet — and hug — until seven days into the trip, has played in stark contrast with the recent visit of Israeli Prime Minister Benjamin Netanyahu, who just last month was greeted with a trademark bear hug by Modi immediately upon landing in Delhi. Other recipients of Modi's exuberant embrace include current and former US presidents Donald Trump and Barack Obama. Addressing the issue of extremism during the press conference, Modi said terrorism was a "threat to countries like ours and to fight these elements it is important for us to come together."Modi's comments follow revelations Thursday that a militant Sikh separatist convicted of attempting to murder an Indian politician in Canada had been invited to dine with Trudeau at the Canadian High Commissioner's residence in New Delhi.The official invitation, which was later rescinded, stirred outrage in parts of India, where the issue of Sikh separatism remains a highly charged and emotive topic.Though he didn't reference Sikh separatism by name, Modi added that "there should be no space for those who seek to divide communities and promote separatism. We will not tolerate those who challenge unity and integrity of our countries."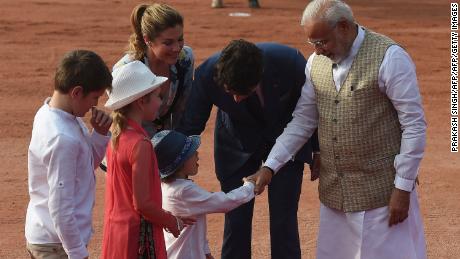 Separatism returns
The relatively obscure issue of Sikh separatism has dogged Trudeau throughout the week-long trip. Canada is home to about 468,000 Sikhs, comprising 1.4% of its population. A small but influential number of those Sikhs support the idea of Khalistan, or the demand for a separate state for Indian Sikhs.The separatist issue goes back decades in India, with one of the most important clashes occurring in 1984 when Indian Army soldiers stormed the Golden Temple in Amritsar, Sikhs' holiest site, in an effort to capture separatist leaders. In retaliation, India's then-leader, Indira Gandhi, was assassinated by her two Sikh bodyguards. According to official figures, the resulting anti-Sikh riots saw 2,733 people killed in the Indian capital alone. Human rights activists say the death toll was significantly higher.In 1985, the violence spilled over into Canada, when Sikh separatists bombed an Air India plane that had taken off from Toronto airport, killing all 329 people aboard, including numerous Canadians of Indian descent. The only person who was convicted in the bombing was released in 2017 by Canadian courts after two decades in jail.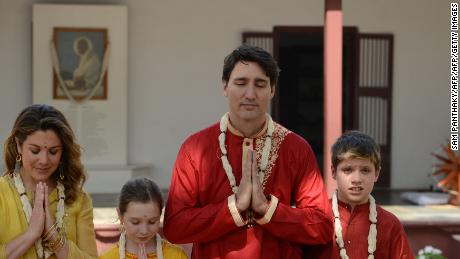 An armed Sikh rebellion operated in Punjab, the heartland of the faith, from the 1980s to the early 1990s, when it was crushed. Today the majority of support comes from the Sikh diaspora, especially in Canada. Trudeau has actively courted the Sikh vote, previously proclaiming that his cabinet has more Sikhs than Modi's. Analysts say a particular area of contention during Trudeau's India visit, was his appearance at a Sikh event in Toronto last year, where separatist flags and posters depicting an extremist Sikh leader killed in the 1984 Indian Army operation were displayed.Speaking to CNN Tuesday, India's former ambassador to Canada Vishnu Prakash said Sikh separatism was a matter of greater concern inside India than in Canada."It goes to the core of India's unity and integrity and that is an issue that needs to be sorted out between the two countries (Canada and India)," said Prakash, who described the event Trudeau attended in Toronto last year as "an out and out Khalistani platform."
Original Article
[contf] [contfnew]
[contfnewc] [contfnewc]