European astronaut Alexander Gerst posted the photos on Twitter Tuesday, noting that it looked "as if somebody pulled the planet's gigantic plug.""Staring down the eye of yet another fierce storm. Category 5 Super Typhoon Trami is unstoppable and heading for Japan and Taiwan. Be safe down there!" he wrote.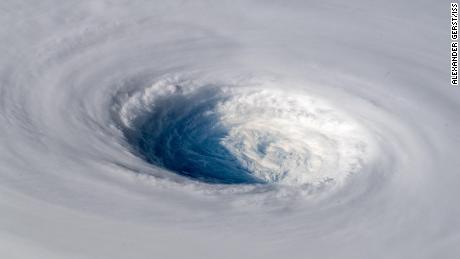 By Wednesday, the storm had weakened and it is no longer considered a "super typhoon." But with sustained wind speeds of around 195 kilometers per hour (121 mph), its strength remains that of a category 3 hurricane, and the islands in the storm's projected path are bracing for its arrival.If the current forecast holds, Trami will hit the Ryukyu islands south of Japan, including Okinawa, with winds between 185 and 200 kph (115 and 125 mph) beginning Friday night into Saturday morning. From there the storm is expected to take a turn toward the northeast and will likely make landfall over Kagoshima prefecture as a strong typhoon with sustained winds equivalent to a category 3 hurricane Sunday afternoon. The storm will progress across the mainland dumping rain through the remainder of the weekend into early next week, according to forecasts Wednesday.
According to CNN meteorologist Tom Sater, models earlier in the week suggested Trami could make landfall in mainland Taiwan, but that is now less likely.It has been relatively stationary over the last day or so — hence the weaker winds — and is forecast to weaken a little more before possibly picking up strength again as it nears mainland Japan, adding to the summer of extreme weather that has plagued the Asian nation."Pre-typhoon rainfall could cause a threat of landslides; once the system moves in it'll enhance that rain," Sater said.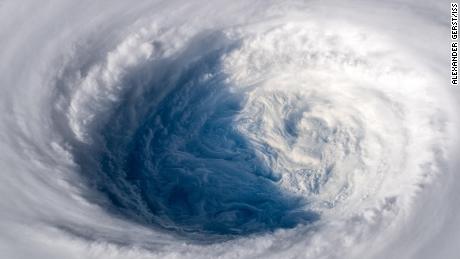 Even though it is still a relatively long time before the storm hits Japan, its impacts are already being felt. Tropical moisture is being funneled up into Japan, causing rain along the eastern prefectures up toward Tokyo. That rain will continue through the next few days until the storm hits the mainland directly. Rainfall totals from Kagoshima up through Tokyo could exceed 250 to 500 milimeters (9.8 to 19.6 inches) in many locations, which could cause flash flooding and landslides in some areas.
Second super typhoon in under two weeks
Trami comes on the heels of Super Typhoon Mangkhut, which cut a swath of destruction through northern Luzon in the Philippines less than two weeks ago, including causing a landslide in the township of Itogon in the Cordillera Administrative Region that killed dozens of people, mostly miners and their families. More than 100 people in total were killed by the storm in the Philippines, while trees were downed and windows smashed across Hong Kong, which struggled to cope with its strongest storm on record.More than 2.45 million people were evacuated in China's Guangdong province as Mangkhut made landfall in the Chinese mainland.
CNN's Judson Jones contributed to this report.
Original Article
[contf]
[contfnew]

[contfnewc]
[contfnewc]