But a digital sex scandal that police say involves some of K-Pop's biggest stars has rocked the K-Pop world, leaving it facing a reckoning from which some believe it might not recover.In the past month, four major K-Pop idols have apologized or announced early retirement after being linked to a group chat in which members shared sexual videos of women who were allegedly filmed without their consent. On Thursday, singer Jung Joon-young was arrested in connection with the scandal. The allegations tie in with a wider problem in South Korea of illicit recordings and voyeurism.This week it emerged that about 1,600 people had been secretly filmed in motel rooms in South Korea. Police say the footage was live-streamed online to paying viewers. Last year, in Seoul, a squad of women inspectors was deployed to search the capital's 20,000 or so public toilets for spy cameras.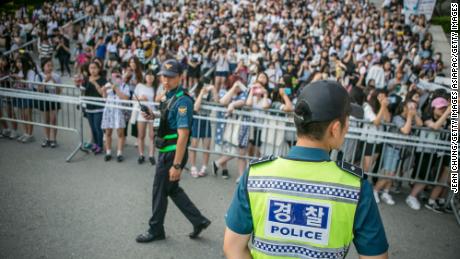 K-Pop stars have long been placed on pedestals, with management companies highly protective of their squeaky clean images. Allegations linking some to the dirty world of online voyeurism have rocked South Korea, and exposed how the longstanding problem of toxic masculinity — the idea that the male role involves violence, dominance and devaluing women — has penetrated every level of society.Speaking at a protest Thursday over the scandal, Kim Yong-soon, co-president of Korean Women's Association United, said "the rape culture (in Korea) that has used women for erotic videos has been maintained for a long time." "The male-centered … rape culture did not stop even after feminism and the growth of the feminist movement and #MeToo," she said, adding now there was an opportunity "to sort out finally the male-centered culture that has traded women's sexuality (for so long)." At an emergency meeting with concerned groups and activists this week, South Korea's Minister of Gender Equality and Family Jin Sun-mee had a simple message for the country's men. "Please stop," Jin said. "Please report it. Women are humans with souls who can be our colleagues, friends or sisters who live and breathe next to us."
Toxic masculinity
When South Korean police depicted a spy cam voyeur in a public awareness campaign designed to protect women, amid an epidemic of voyeurism and upskirt photography, their typical perpetrator couldn't have looked less like a K-Pop idol.The posters showed an overweight, rosy-cheeked man dressed like a child in suspenders and shorts. Police apologized, and the campaign was quickly withdrawn, deemed wildly inaccurate and offensive to the millions of women living in fear of illegal filming. There is little evidence to suggest spy cam operators and upskirt snappers are badly socialized losers rather than regular men brought up in a society that has taught them to see women as objects.The latest allegations bear out that reality. The accused K-Pop stars are famous young men at the height of their industry, feted in the press and fawned over by millions of fans.The sale and distribution of pornography is illegal in South Korea, and porn sites are blocked or difficult to access online. However, some men share explicit videos on messaging apps and social media, including potentially illicitly filmed footage."(This issue) is prevalent in every part of society," said Choi Mi-jin, president of the Women Labor Law Support Center. "It is not just a problem with certain celebrities." This scandal, Choi said, exposed the way that men generally "currently perceive women." In 2018, tens of thousands of women protested against surge in illegal filming in central Seoul under the slogan "My Life is Not Your Porn." However, many women at the events covered their faces for fear of being identified or harassed online afterward.Park Kwi-cheon, a labor law professor at Ewha Law School in Seoul, said that because Korean men often view women as merely sexual objects, they might not fully understand why filming a sexual partner without consent is wrong."For example, in colleges there have been incidents when male students would secretly take pictures of female students or disparage women sexually in group chats," Park said. "There is a culture where they don't think of such behavior as crimes but think of it as a kind of game."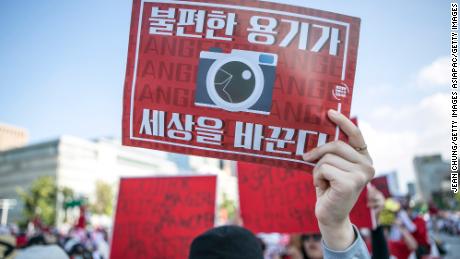 VIP scandal
K-Pop labels and management companies begin the development of some artists from an early age, said Jung Duk-hyun, a pop culture expert. Recruited into K-Pop training camps, the future stars are highly controlled and molded to be as close as possible to perfect performers in both voice and look.While undergoing as much as a decade of pop-star training, some artists are cut off from society, as they focus on working their way up the ranks of a K-Pop stable, hoping to one day burst onto the music stage. When they do go public, artists are often forbidden by their contracts from dating for several years, in part, some experts say, to appease fans who dream about dating their idols. That transition from isolation to sudden fame creates fertile soil for misbehavior and a pronounced power imbalance between artists and fans, Jung said. The limiting conditions of the contracts stars sign with the labels can also create skewed expectations of how stars should act.Stars can go from relative nobodies to widely recognized figures overnight, with no anonymity, leading them to seek refuge in places like dark and isolated VIP rooms of bars and clubs, Jung said.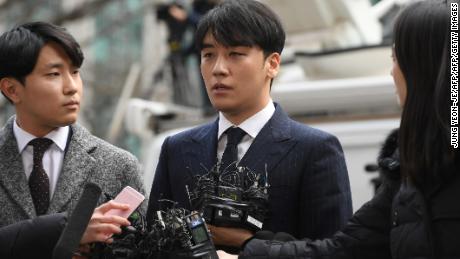 Burning Sun, a popular nightclub in the upmarket Gangnam area of Seoul, may have been such a refuge for Seungri, a member of global chart-topper Big Bang. The 28-year-old oversaw publicity for the club and sat on its board, until it shuttered last month amid accusations by police that some on the club's staff secured prostitutes for VIPs, rape, drug trafficking and drug use. Seungri has since quit his position with Burning Sun, and apologized to fans over the scandal. With regard to the alleged sharing of illicitly filmed videos, he has promised to "fully engage in (the police) investigation with truthful answers." The club did not respond to requests for comment, but a spokesperson had previously said it was "actively cooperating" with police. Closed off VIP rooms are symbolic of the arms-length relationship between the K-Pop industry and the public, Jung said. Fans are sold a fantasy from a heavily guarded, almost impenetrable system.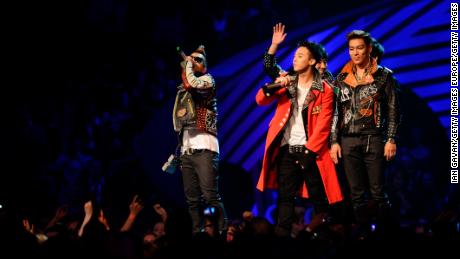 Not enough
For some, the K-Pop scandal had been a long time coming.While some labels that had initially threatened legal action over negative reports about their stars have now apologized, for years they have protected the reputation of their top talent. Previous scandals involving male pop stars have not forced the level of reckoning being seen today. Another young star named by police in the scandal is Jung Joon-young, who admitted earlier this month to having "filmed women without their consent" and shared it online. Jung was Read More
[contf]
[contfnew]

[contfnewc]
[contfnewc]