Speaking in Brussels, where he is meeting European Union foreign ministers, Netanyahu said Trump's announcement was based on "recognizing reality."Trump's move Wednesday to recognize Jerusalem as the capital of Israel and commit to moving the US embassy to the holy city prompted international criticism and sparked protests across the world. The announcement, which upended seven decades of US foreign policy, delighted Israeli officials but was condemned by Palestinian leaders, who see East Jerusalem as the capital of a future Palestinian state.Speaking alongside European Union diplomatic chief Federica Mogherini — who last week described Trump's announcement as a "dangerous" move that "discredited a bit the United States as an honest broker" in the moribund Israeli-Palestinian peace process — Netanyahu praised the shift in US policy. "Jerusalem has been the capital of Israel for 70 years," Netanyahu said. "I think what President Trump has done is put facts squarely on the table. Peace is based on reality. Peace is based on recognizing reality.""I believe that even though we don't have an agreement yet, this is what will happen in the future. I believe that all or most of the European countries will move their embassies to Jerusalem, recognize Jerusalem as Israel's capital and engage robustly with us for security, prosperity and peace."
Erdogan, Netanyahu trade barbs
Netanyahu's appearance in Brussels comes the day after he held talks with French President Emmanuel Macron in Paris, who last week said the new American policy contravened international law. On Sunday, Macron expressed further reservations about the move but condemned "all forms of attacks" against Israel in a statement made alongside Netanyahu.
Netanyahu also traded barbs with Turkish President Recep Tayyip Erdogan, who described Israel as a "terrorist" and "child-murderer state" on Sunday. "Jerusalem is the apple of our eye. We will not abandon it to the child-murderer state. We will not abandon it to an occupier state," Erdogan said in an address in the Turkish city of Sivas."I'm not used to receiving lectures about morality from a leader who bombs Kurdish villagers in his native Turkey, who jails journalists, who helps Iran go around international sanctions, and who helps terrorists, including in Gaza, kill innocent people," Netanyahu said in response Sunday. "That is not the man who is going to lecture us."
Demonstrations on Sunday
The fallout from Trump's announcement continued Sunday with fresh demonstrations in a number of countries, including Turkey, Lebanon and Morocco. Lebanese security forces clashed with protesters Sunday near the US embassy in Beirut, where hundreds of protesters and dozens of riot police gathered in front of the entrance leading to the heavily fortified building.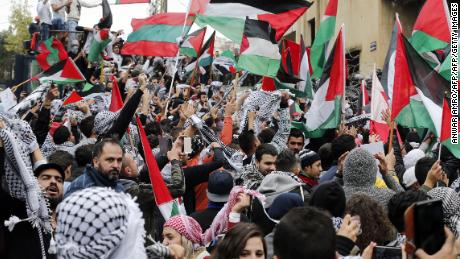 Despite calls to keep the demonstration peaceful, violence broke out as crowds threw plastic water bottles, stones and sticks at the police, who responded with tear gas and water cannons.The Iranian-backed Lebanese militant group Hezbollah plans to hold a demonstration Monday in the Beirut suburbs to condemn Trump's announcement.On Sunday, a Palestinian man was arrested after stabbing an Israeli security guard at Jerusalem's central bus station in what police described as a terror attack. More than 300 people were injured Friday across Jerusalem, the West Bank and Gaza during protests against Trump's decision, according to the Palestinian Authority's Health Ministry.Two Palestinians were killed Saturday in Gaza by Israeli airstrikes that were launched in response to rockets fired into southern Israel from Gaza.
Palestinians: No formal communication with US
Palestinian officials have reacted furiously to Trump's Jerusalem move. Palestinian Foreign Minister Riad Malki told reporters in Cairo on Saturday that Palestinian Authority President Mahmoud Abbas would not meet with US Vice President Mike Pence during his planned visit this month to the region.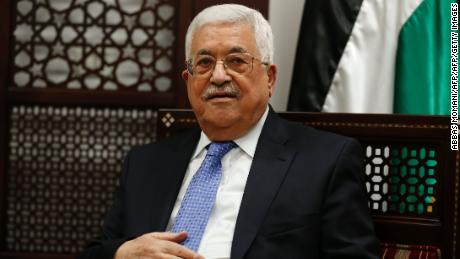 Malki said the Palestinian Authority considers the United States "has withdrawn … from the peace process" and "positioned itself as an actor in the conflict and not as a mediator."Calling the Trump administration decision "illegal and illegitimate and null and void legally and politically," Malki said there would be no formal communication with US officials.He said the Palestinian leadership had "no intention of withdrawing from the peace process" and would instead seek a new mediator to work toward a two-state solution.
Original Article
[contf] [contfnew]
[contfnewc] [contfnewc]
The post Israel: Europe will follow US on Jerusalem appeared first on News Wire Now.