Katr Alnada was number 18 on the list of just 29 people that were granted passage to the capital, Damascus, for medical treatment under a people-swap agreement between the Syrian government and a rebel group, according to Mohamad Katoub, an advocacy manager for the Syrian American Medical Society (SAMS) in neighboring Turkey. "When (the) local team reached her they found that she died weeks ago," he wrote on Twitter.The baby was to be transferred to a hospital in the capital after the rebel group Jaish Al-Islam agreed to hand over prisoners in exchange for the evacuations, according to Katoub. The rebel group also confirmed the deal to Reuters, saying it would hand over 29 prisoners for 29 people in need of care, 18 of which are children. The agreement broke a months-long deadlock and the first four people, including three children, were transferred overnight, said Ingy Sedky, a spokeswoman for the International Committee of the Red Cross in Syria. Humanitarian organizations had been pleading for months to allow the transfers.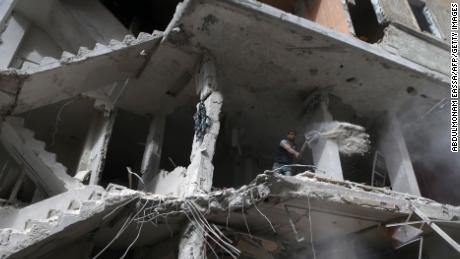 Eastern Ghouta is one of Syria's last rebel strongholds, but it has been under siege by regime forces for more than four years. Syrian President Bashar al-Assad had repeatedly refused aid into the enclave and evacuations out of it. Assad's government has accused rebel groups there of using civilians as human shields. One patient due to be moved refused for fear that he will be arrested by President Bashar al-Assad's regime, Katoub wrote on Twitter. He added that "safety guarantees (are being) given to the patients."He said that a further 13 patients, in addition to the 12 already evacuated, are scheduled to be moved. SAMS reports that at least 17 patients have died over the past few months in the enclave because they were not able to access medical care.According to SAMS, the evacuees are "suffering from heart disease, cancer, kidney failure and blood diseases, in addition to cases requiring advanced surgery that are not available in the besieged area."There have been no evacuations since the four overnight, said the ICRC's Sedky, but she added that they were expected to resume Wednesday night."The operation yesterday went very smoothly and we managed to transfer the medical cases safely to their destination to receive necessary treatment in Damascus," she said, adding that family members were allowed to accompany patients.When asked why so few people had so far been evacuated, she said: "Usually this type of operation is very complicated, involving coordination with different parties to make sure people on the way will be protected and get out safely from the area. Security guarantees are very important for us, so it will be a lengthy process."It is not clear if the Syrian government and rebel groups will agree to more than 29 evacuations. There are also concerns over how the evacuees will be treated, having come from a rebel-held area and into Assad's center of power in Damascus.
137 children in need of urgent care
Humanitarian organizations have been pleading for months with the Syrian government to allow the critically ill to leave. SAMS warned that the situation had "reached breaking point" and that 641 people require urgent medical attention, while the ICRC said a list of 500 of the most urgent cases had been compiled. UNICEF reports that 137 children are among those in Eastern Ghouta need of urgent medical care.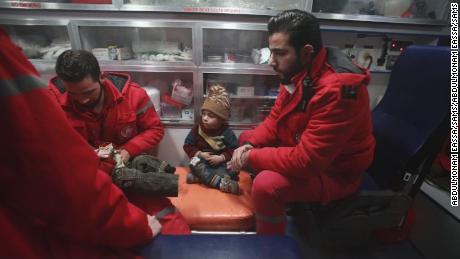 The UN's humanitarian chief in Syria, Jan Egeland, said on December 21 that a nine-month-old baby had died in Eastern Ghouta due to acute malnutrition and respiratory complications. "Had we gotten permission to evacuate to hospital ready in Damascus the child would have been alive today," he wrote on Twitter. UN officials warned last month that the area was experiencing the worst outbreak of child malnutrition since the civil war began, and that hundreds of people in need of urgent medical attention were trapped there.Sedky from the ICRC said Eastern Ghouta's humanitarian situation had deteriorated considerably in recent months. "There is a huge shortage of food. Most families can barely manage one meal a day, if any. You see people eating boiled corn, or soup, but not much else. And the lack of food is pushing prices up," she said,A bag of bread for one family that would usually cost 50 cents now cost $10, she explained.
Turkey-Russia talks
Turkish President Recep Tayyip Erdogan said over the weekend that his country was working with Russia and President Vladimir Putin to evacuate hundreds of people from Eastern Ghouta, including some to Turkey. "We are discussing with (Putin) how to evacuate them to our country without problems and provide them with medical assistance," Russia's state-run Sputnik news agency quoted Erdogan as saying.Eastern Ghouta had in May been designated a de-escalation zone by Russia, Turkey and Iran — which are acting as brokers to resolve Syria's six-year war — but violence between rebels and regime forces has returned to the enclave in recent weeks. Eastern Ghouta, on the outskirts of the Syrian capital Damascus, was taken by rebels in the conflict that erupted with the Arab Spring, but it was besieged by government forces in 2013 and has since then suffered from a dire lack of aid.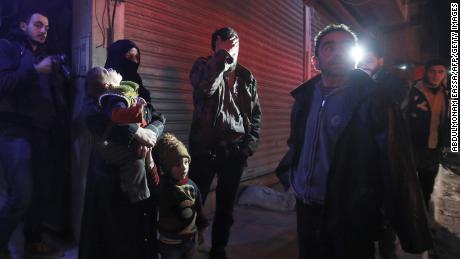 It has a population of 400,000, but there is currently a ratio of only one doctor for each 4,000 residents, SAMS said.In theory, residents in the area should be in a safe zone free from airstrikes, shelling and fighting. But they have suffered from both a lengthy siege and continued bombardment.This renewed violence comes amid peace talks and a declaration of victory from Moscow, in which Russian President Vladimir Putin said his military forces would begin to withdraw.
CNN's Natalie Gallón, Spencer Feingold and Joe Sterling contributed to this report.
Original Article
[contf] [contfnew]
[contfnewc] [contfnewc]
The post Baby dies awaiting evacuation from Syrian suburb appeared first on News Wire Now.